Integrations
Zapier
Automate creating branded images, PDFs, banners, and more by using Robolly to render images via Zapier. Robolly is a cloud-based image rendering API that allows you to easily render template-based images on scale. Robolly works out-of-the-box with Zapier (and other automation apps) via the Webhook by Zapier action, so it's simple to set up within the tools you already use and know.
How to set up Zapier to render images automatically (via Zapier setup Wizard)
To set up Zapier to render images automatically, we recommend using the Zapier setup Wizard which will give you the exact values that you need to fill into Zapier.
Zapier setup Wizard is available for every template in your account in Robolly. After you set up a template in the Robolly editor (or import a pre-made one from our gallery), switch over to the render tab and look for "Zapier setup Wizard" in the right panel to open the Zapier setup Wizard. Then, create a new action in Zapier as instructed in the setup Wizard, then, give it a test render, and you're all set up!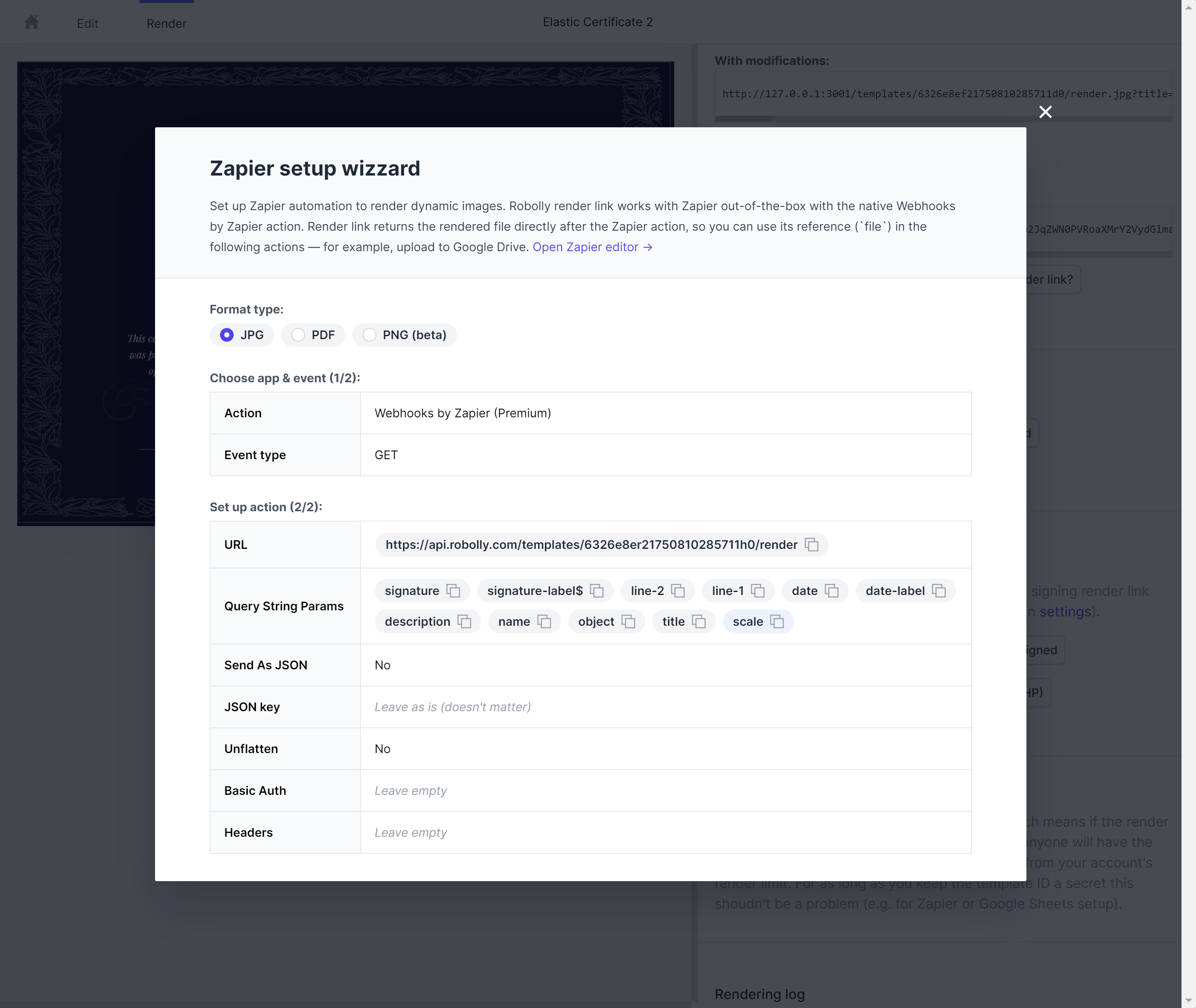 Use case: automatically turn Tweets into images and upload them to Google Drive
To set up an automation to turn tweets into images with Robolly, you can use pre‑made templates from Robolly like Tweet Story template or Tweet Square post template. In Zapier, we can set up a trigger for this automation when a specific Twitter user makes a new tweet. In the next action, we'll use the data from the tweet to create a personalized and branded image via Robolly on‑demand. And in the final Zapier action, upload the file to Google Drive — however, we could also set up a different action that will post the rendered tweet image to Instagram (or other social media).