How to Create Instagram Posts Images Quickly (Automatically) To grow your Instagram account for business, you need to push lots of on-brand content consistently at the time when your audience is online.
While social media schedulers can help with posting and planning, you need a content creation tool that helps you generate magnetic Instagram images that you can then queue up on your scheduler.
When creating your Instagram posts, you need to follow a few guidelines:
Stay on brand: Your Instagram feed can let your audience know whether you put lots of thoughts in how you want your brand to be perceived or you are just casually pushing things out to see what sticks. Making sure that your brand messaging pops out is key to gaining more followers and boosting engagement.

Create magnetic posts: On Instagram, quality is more important than quantity. Always push posts that appeal to your target demographic. Use the carousel to share informational content that appeals to your audience.

Diversify your posts: Apart from Instagram static posts, you need other content types, including Instagram stories, Reels, carousels, videos etc. Using these avenues will get you more traction faster.
Now, as you can tell, keeping up with Instagram can be quite a lot of work, Luckily, with a tool like Robolly, you don't need to spend hours creating hundreds of posts to schedule them out, week after week. Instead, you only need to create your templates once and render them several times, in a different number of ways.
How to Create Instagram Posts Quickly
To start creating dozens of IG posts within minutes, create an account with Robolly for free. Our 7-day trial gives you everything you need to take our tool for a test drive.
Once you're logged in to your account, you have two options: You can create a template from scratch or use our built-in Template Gallery that we designed based on some of the best-performing social media posts for various use cases.
In this tutorial post, we will use the template gallery to help you know how you can use Robolly to generate dozens of posts quickly.
From the left dashboard, go to the Template gallery. You will be presented with a page that looks like this: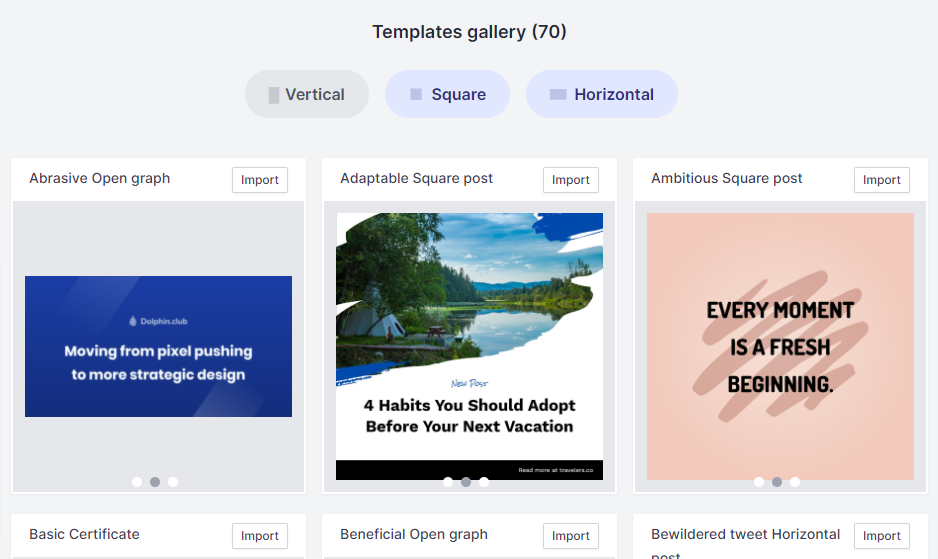 You have three filter options depending on what you need:
Vertical templates suitable for Story posts and Reels,
Square posts for feed posts and
Horizontal templates suitable for other social media platforms such as Facebook, LinkedIn and Twitter.
You can browse through, and once you have something that works for the kind of posts you want to create, simply click on the import button below the template. Next, you'll be taken to a page where you can customize your images as per your needs.
Your visual design appears on the left, while the individual components that make up your design are on the right. Use this right pane to customize your design.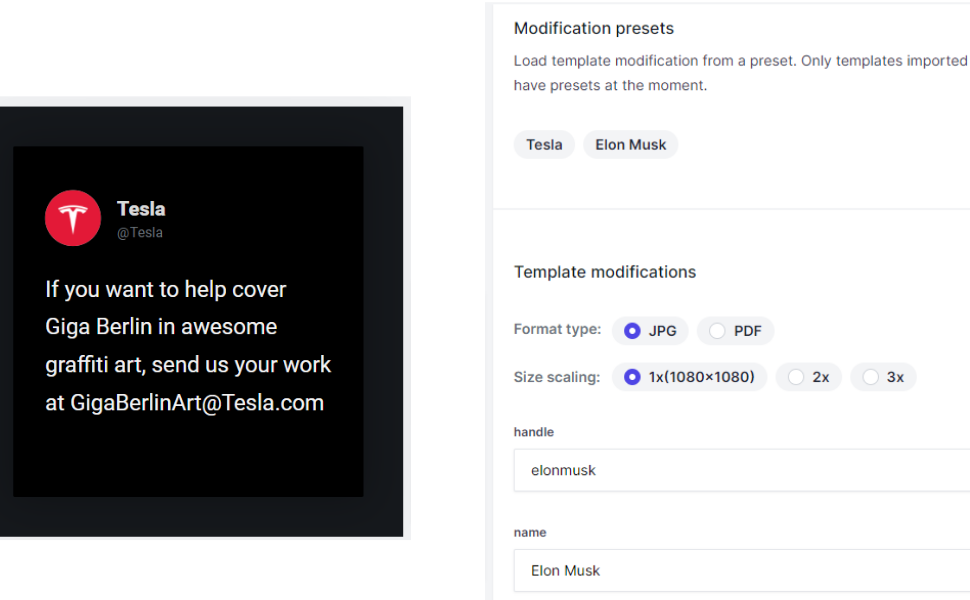 You will also notice that playing around with Modification presets will give you a few design variations. Once you are done with the changes, click on the blue Render & Download button.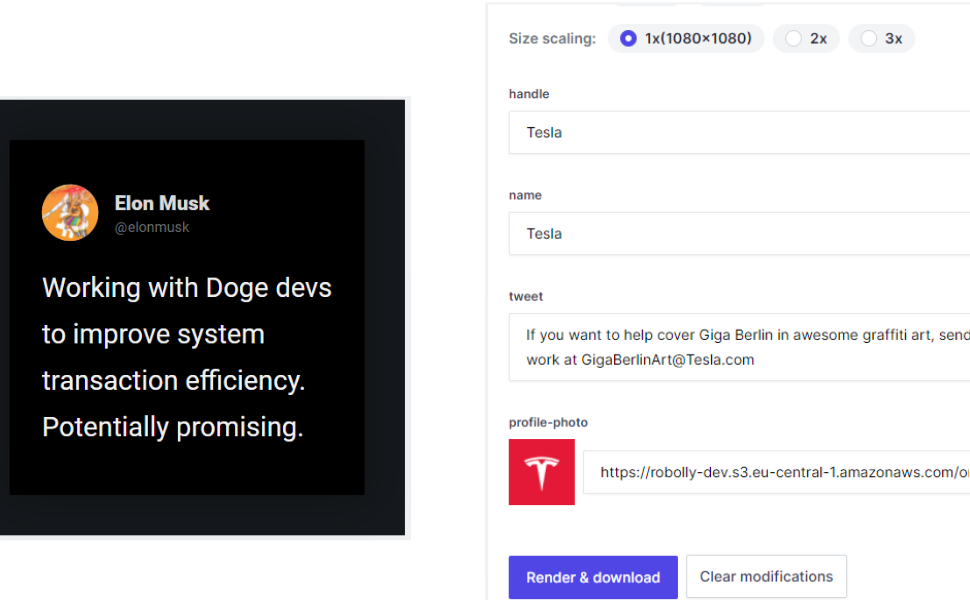 Your Instagram post image is now ready to be uploaded to Instagram or your content planner.
Rendering Image Variations
To render more images from the same gallery, simply change the content in the text fields on the right sidebar. Using this process, you can generate a dozen or more images in just under 5 minutes that can cater to your weekly Instagram content needs.
You, however, don't have to stick with one template. From the template gallery, find the templates that fit your content types: We have templates for:
Expert quotes
Quotations
Speaker introductions
Podcast announcement
Product features and promotions etc.
Scaling Your Content Production for Instagram
To make this process easier, simply create a simple spreadsheet using Microsoft Excel or Google Sheets, plan your content for the week or even the month, and then use Robolly to render your ideas into images.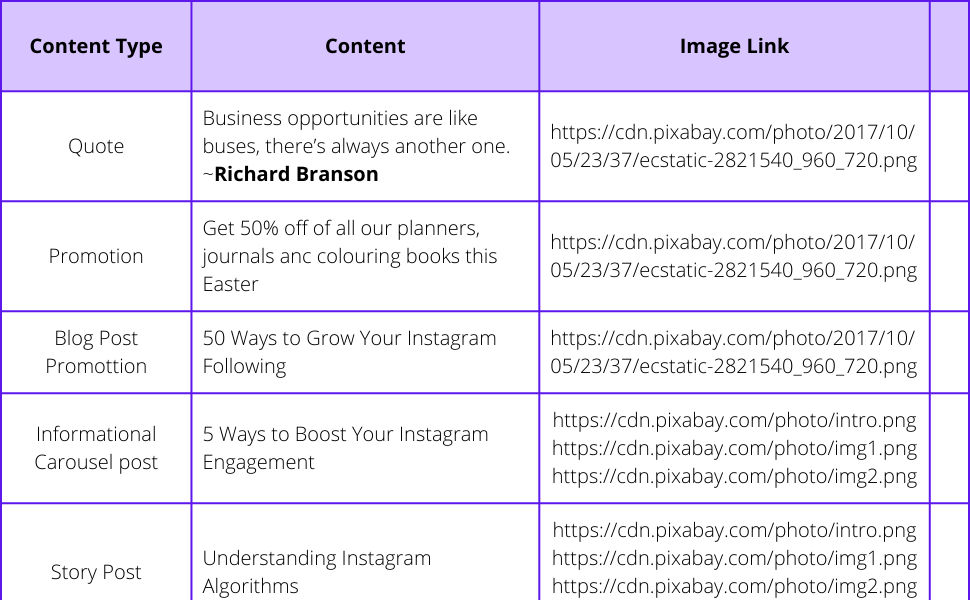 To do this, open a template that you like, and copy-paste your content from your planner into the template, rendering and downloading each time.
You might have to jump across a few different templates when creating various content types, but with Robolly in your arsenal, this process of creating Instagram graphics is much faster.
If this sounds tedious, then enter the world of Datasets… You can render hundreds of images by importing your content from spreadsheets and transforming them into Instagram-ready posts with just a few clicks.
Instagram Mass Content Production with Datasets.
To use datasets, you need to have templates already created or imported into your account. Once you have the templates imported, navigate to Datasets from your left sidebar and click on the New Dataset button.
You'll be prompted to select a template. Access the templates already imported to your account from the dropdown, choose the one you want to use and click to proceed. You can also add more than one template to the same dataset rendering.
You'll be taken to a new pane that looks like this: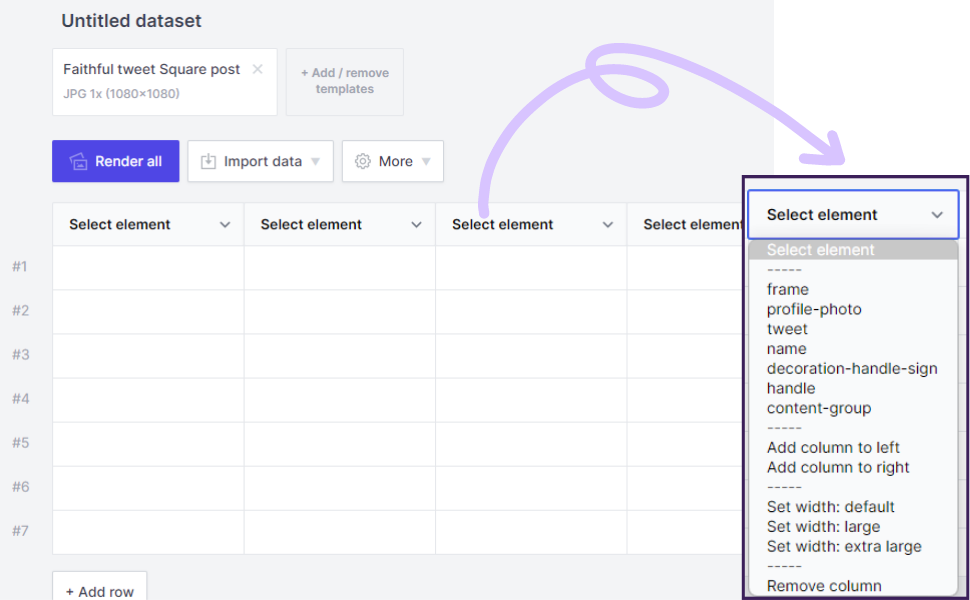 There are two ways to fill in data: Manually add them in the cells, or import them from an .CSV file. Since you've already planned your content in Excel, the import option is more efficient. But, first, make sure your file is saved on your computer as a .CSV file and not the default .xlsx that Excel uses.
To import, click on the import data, and from the drop-down, choose upload .CSV file and replace all existing data. This opens file explorer. Select the file you want to import. The import takes a few moments. After that, the data table will be populated with data from your file.
To match your fields, click on the select element dropdown at the top of each column in the data table, and select the fields as per your content. These fields are informed by the template you've chosen. Once you've matched all the fields correctly, click on Render all button to start generating your images.
On clicking the Render all button, Robolly will start rendering all images and auto-downloads a Zip file containing all the images. You can then extract the images, rename them accordingly, and queue them up in your Instagram content planner.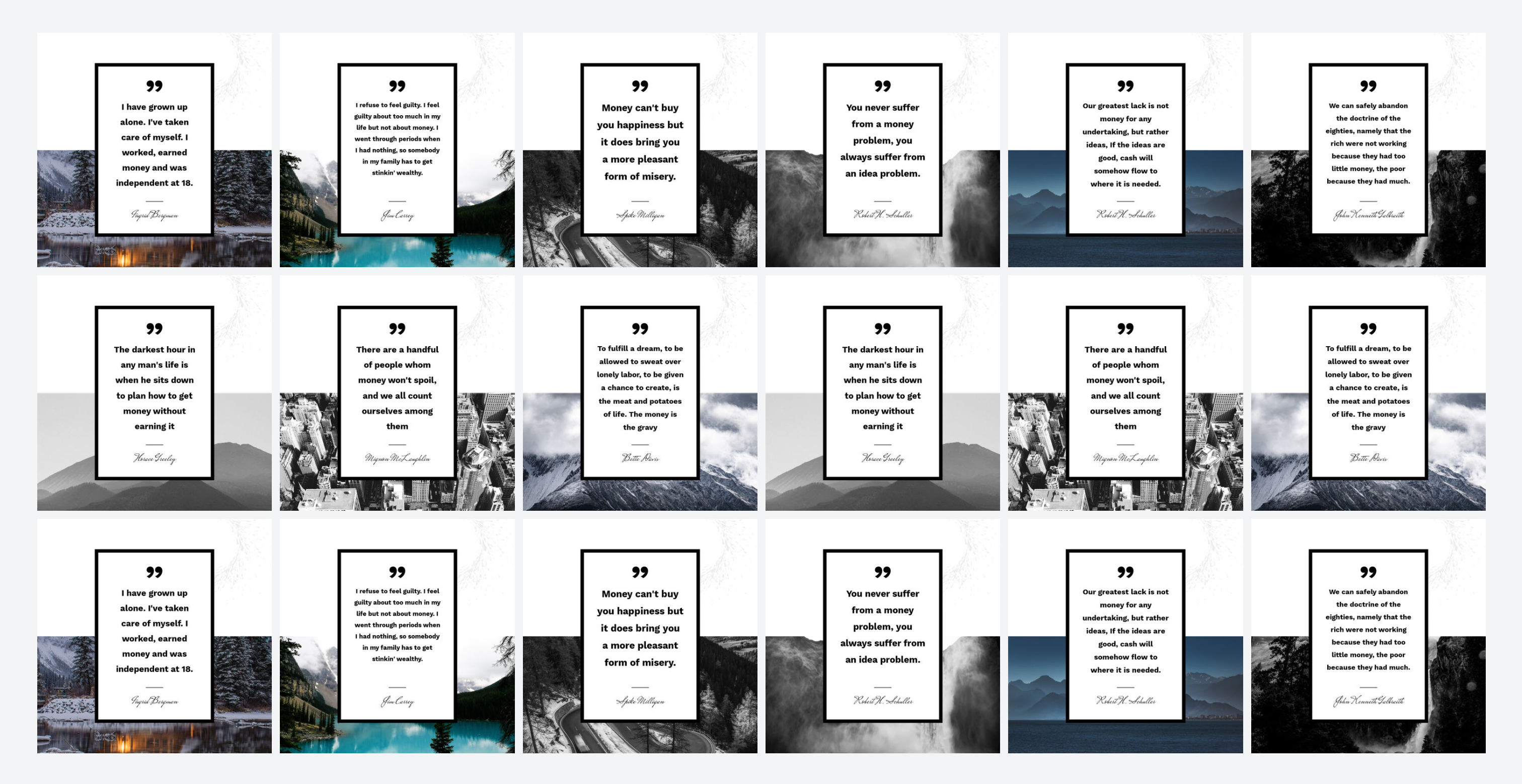 Wrapping Up
By following the steps discussed in this post, and with the help of Robolly Instagram posts generator, you could be 3 months ahead of your content schedule for Instagram and never have to worry about creating your IG posts from scratch ever again.